Granulator Introduction:
G series strong Granulator from United Tech is designed to meet high production fragmentation and large item broken at once production needs heavy recovery equipment. Its mainly used for broken plastic, rubber and metal and other materials. As a kind of high efficiency, low power, low noise and waste recycling equipment, this series of Crusher machine shell is solid welded steel structures, appearance, outside the box, washing, tool change, repairs, maintenance is very convenient. Can be different according to the crushing material cutter blade structure, and can be equipped with pneumatic aggregate devices according to customer demand and soundproofing structure, economical, practical, easy operation, long life and other advantages.
G series granulator in good appearance, is welded by rigid steel structure, machine case half -and -half opening, which makes convenience to clean, remove knives and maintenance, blade roller is to be chosen by different crushing material. Optional air conveying collecting units and sound-proofed execution are at user's request.
G series crusher includes: compact graulator, medium granulator, large granulatorr, hevy duty granulator, etc.
Suitable for crushing materials as: plastic materials, rubber, PET bottle, paper, cardboard, electronic board, thin film, sprue, pipe, sheet, nylon, and plastic bottles, etc.
This Granulator is economical, practical, simple operation, durable and so on。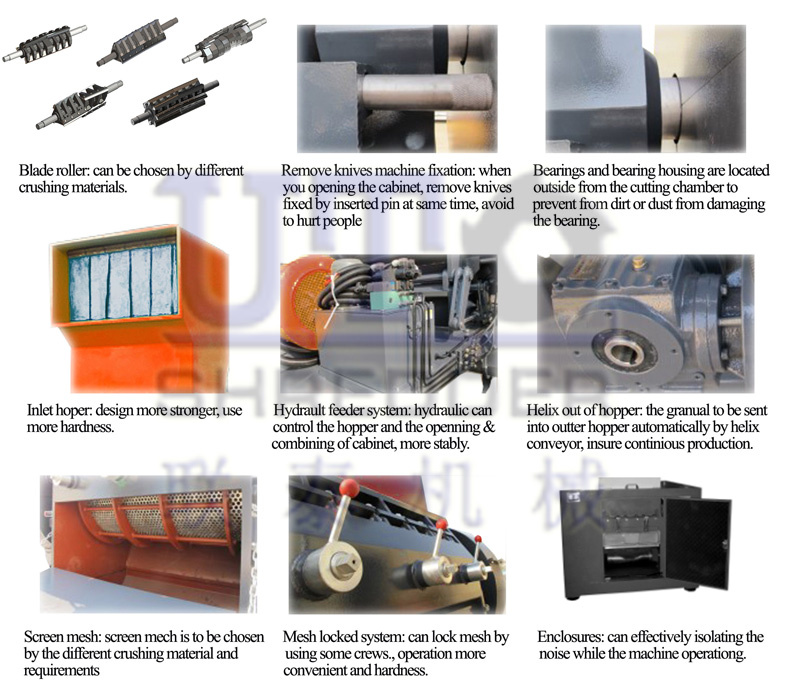 Granulator Advantages:
* Compact design, save space
* Outside the cabinet design for easy blade change
* Bearing high safety factor, reducing the risk of bearing damage due to improper use of
* Rotor at each end of the side panel can be replaced with wear-resistant layer
* Complete machining and welding cutter, ensure accuracy of shearing clearance between knives and fixed blade
* Individually controlled electric box
* Various choice of knife roller of the structure, characteristic of a material according to choose the right structure of the rotor can improve efficiency, extending the service life of the equipment
* A variety of forms, customers can choose different aperture of screen
* Multiple safety protection switch, the whole meet state safety standards
Granulator Rotor type
*R knife-roller:
Knife rolls and knife form a two-point cut.
Knife in the mounted turret back, optimal cutting angle to increase output.
Particularly suitable for crushing hard nozzle material, tubes, thick-walled objects and materials such as sheet.
*L knife-roller:
Designed for high load blade cutter, make materials more accessible from each blade staggered intervals.
"People"-shaped blade configuration, reduced cutting force
Spaces between the cutter blades, suitable for processing the bottle, tubing, films and other materials,
*S knife-roller:
Solid body structure, good blocking material into the blade.
Able to withstand the impact of large cutting, easy to deal with thick, hard plastic.
Good at breaking cables, plate, thickness profiles and so on.
*V knife-roller:
Blades supported by a mounted turret, under high impact.
Knife configuration with fixed knife from the ends to the intermediate formation of bi-directional shear cutter.
Reduced energy consumption, reduced wear of the tool and the box sides.
Granulator Applications:
Glue head material PET bottle Plastic sheet
Plastic film Rubber tires paper
Cans Plastic pipe Electronic board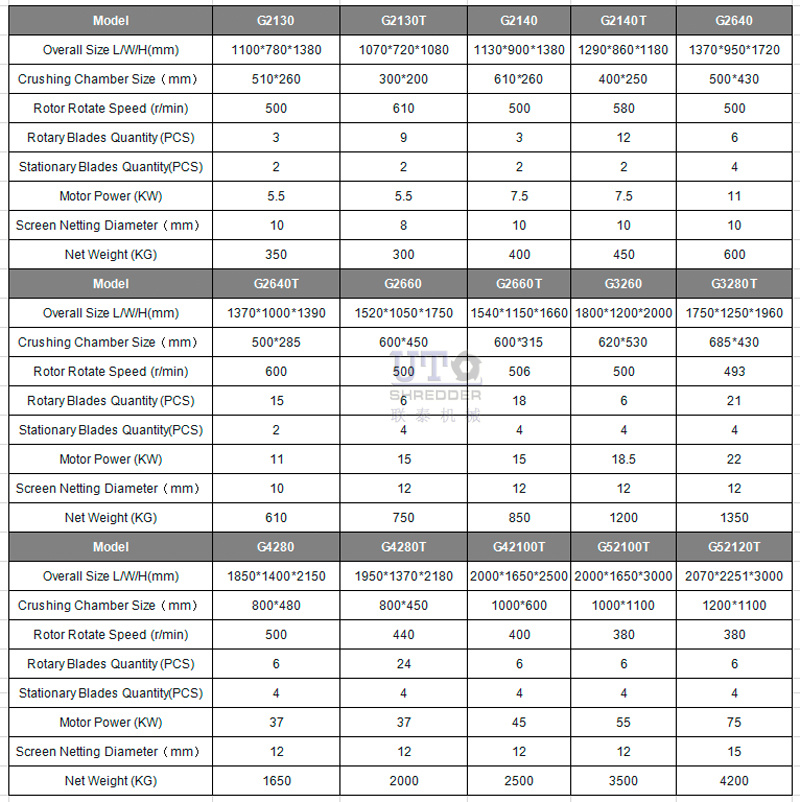 Note:
1. The voltage about the power supply can be selected by the customer's specific requirements.
2. The shredder capacity can be influenced by the material compostion and output size.
The above specifications are only for reference and subject to change without prior notice, please confirm with our sales representative when making order.
Welcome to contact with us to get more details product information. We are glad to introduce you the most suitable machie, design the most resonable proposal as your production requirements. Our task is to support our customers who are in the solid waste & refuse management industries to get a higher production efficient, impove their product quality and value so that they can get a greatest progress in the keen competition.