wood shredding machine/wood shredder/single shaft shredder is a widely used type of machine. It consists of a single, solid shaft with square blades bolted into it. This shaft rotates at about 74-83 RPM, depending on the model, and these blades pass through a bed knife on the base of the cutting chamber. A hydraulic ram continually pushes the material against the shaft of the shredder for continuous cutting. It is an ideal machine for plastics, paper, wood, fiber, rubber, organic waste a wide variety of non metallic materials.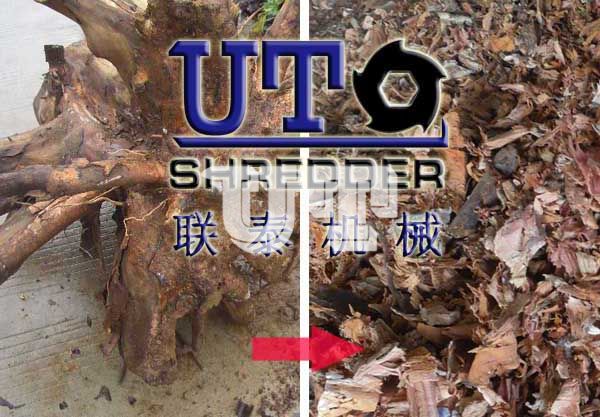 The size of the machine required for each project depends on the initial size of the material, capacity and the final particle size desired.
wood shredding machine/wood shredder/single shaft shredder is almost always used with a screen, which retains the material in the cutting chamber to reduce the material even further. The standard cut on a single shaft shredder is 25-40mm.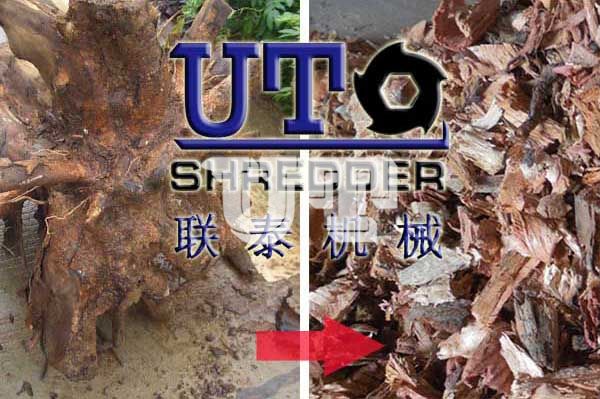 Application:
The S series range of wood shredding machine/wood shredder/single shaft shredder is our conventional range of small to medium size single shaft shredders. Controlled by microcomputer (PC), featuring start, stop, reverse functions. It is fitted with an automatic overload return mechanism to prevent damage to rotor and other parts. Suitable for processing a wide range of materials including: Plastic lump/purging, Plastic boards, Circuit boards, Plastic barrels, Wood, Fibre, Rubber, Films.
Zibo United Tech Machinery Co., Ltd. has the technology which is more mature and more advanced design of biaxial crusher series, volume reduction processing provides reliable quality equipment for pre crushing, utilization of waste recycling in china.
The machine is suitable to process very big size of waste furniture, such as fiber board or shaving board (particleboard) in furniture industry, timber harvesting, wood cutting remains (branc hes), wood processing remains(saw mill residue), waste wood pallets, and even other no wood material (reed, bamboo).
2. The machine with big feeding mouth, it can put the big plastic product freely.
3. The rotary blade and cutting blade and blade edge with special design, it can get very high efficiency and high capacity
4. The machine is control by PLC system, . The knife can rotated in opposite direction, and also can close automatic if something unexpected happen, with very high safety service
5. The machine running slowly with low noise and low dust
6. The knife material is high quality tool steel, with long lifetime.
We specialize in this crusher and environment-protection field many year. with best quality, best service and competitive price,
More service we can provide:
1. Customize & OEM is available.
2. Consumable parts for free distribution.
3. Our engineer are available to service oversea.
4. Professional Free Design
5. Respect clients; Devote ourselves to improving the total value
6. 12 months warranty